Visitors from May 2004
2365+

JAYENN'S HOT NICKEL HARAKKA

JAYENN'S HOT NICKEL HIEKKA

The Story of JAYENN'S HELMI

updated 17.6.2006 Updated show results Health examinations

The first time I heard about Helmi was in the middle of January 2004. That was the day when Joan Grant wrote to me asking if there could be a possibility to import one of her pups to Finland.

It sounded like a good idea, something special - as there has never been a case where a Finnish Spitz would have been IMPORTED to Finland. Exportation - yes of course - that's nothing special, but importing - maybe Helmi will gain publicity by being the first - but hoping not the last import.


Joan Grant, owner of Jayenn's kennels, has bred Finnish Spitz for 30 years. Numerous pups have been born in her kennel and as numerous are all the Champions and Winners that have a Jayenn's prefix. Visit Jayenn's homepages

In the litter where Helmi was born were altogether five females and have an additional "Hot Nickel" middle name - except Helmi - as it would have been too long name for the Finnish studbook, which only can take 15 letters including spaces. Hot Nickel comes from the dam's and sire's names - as the dam is Jayenns RedHOT Flying Colors and the sire is Pikkinokka's Nordisk Niccolite = NICKEL.
Click the photographs to get into Fly's and Nicc's pages
I have declared myself as a "God Mother" to Helmi as I did not have an opportunity to take her myself. And this is my gift to her that I will keep these pages to make her known by everyone of you.
---
New update 3rd of May 2004
Helmi arrived to Kuopio via Helsinki on the 23rd of April 2004 safe and sound with full of spirit and activity. It seemed that she did not mind the long journey at all. If you wish to follow Helmi's adventures click her own page - I will update them when there is something new to say.
---
New update 26th of May 2004
I received new photos from Joan and I have loaded them on Harakka's and Holly's pages. Helmi or nowadays Ruuti has a new play pal. Johanna has bought a new Siberian Husky pup (8wks) and Ruuti and the little one have made very good friends and fit together well, playing and running all around the house - and making a lot of noise - of course. Ruuti is attending an unofficial match-show on the weekend - we'll see what happens. Hold your thumbs up! I have also added Nicc's page now, click the photo.
---
New update 30th of May 2005
Many pages have been put up during this year. All girls have received their own pages. Helmi/Ruuti's show result page is the latest to have been updated. Ruuti is doing well in her show carreer as she has already received three CCs. She can take as many CCs as she is given until the age of 2 years. Then the last one, be it what ever number, will give her her Championship - of course if she has the Hunting Trial completed.
---
New update 17th of June 2006
Joan and Leslie were here to visit our place. Joan did not hesitate to step in the rowing boat for the trip over the river. And Ivan did not either mind the journey, even if he had never been in a boat before. He sat on Lesley's lap like a king. We had a really interesting afternoon talking "dogs". I hope everyone of us learned something new. Thank you for coming, I will never forget your visit here.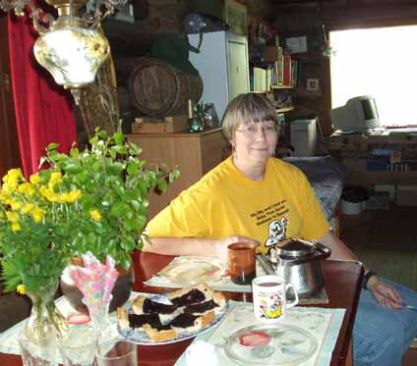 ---